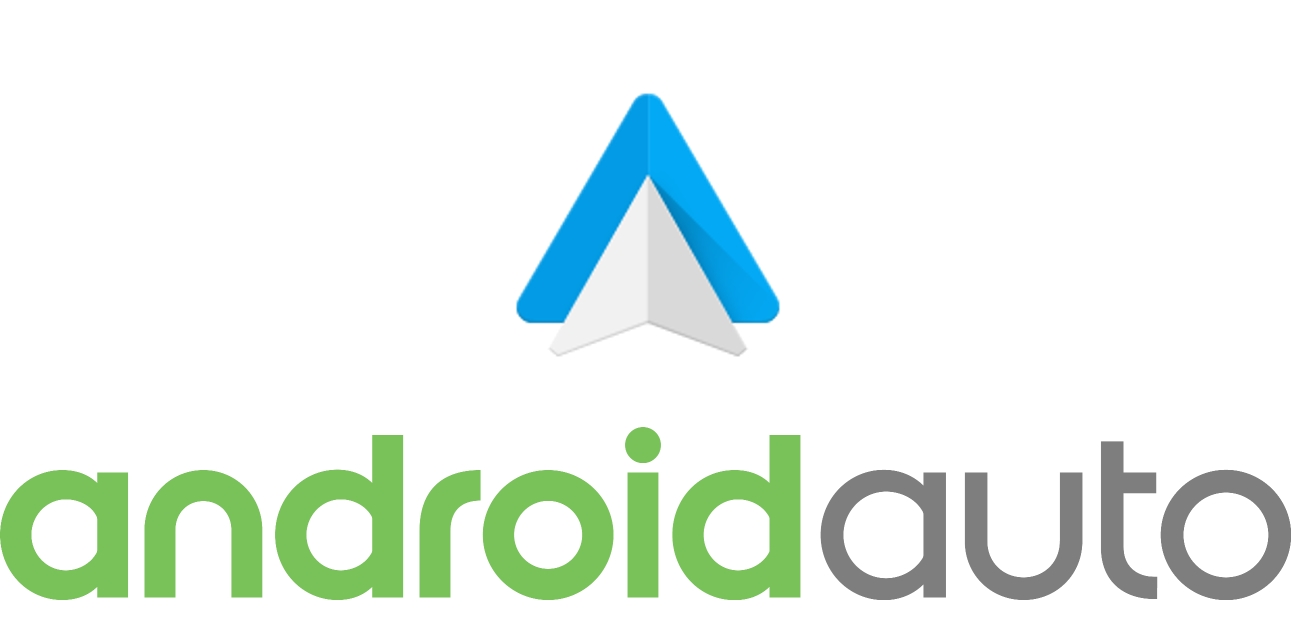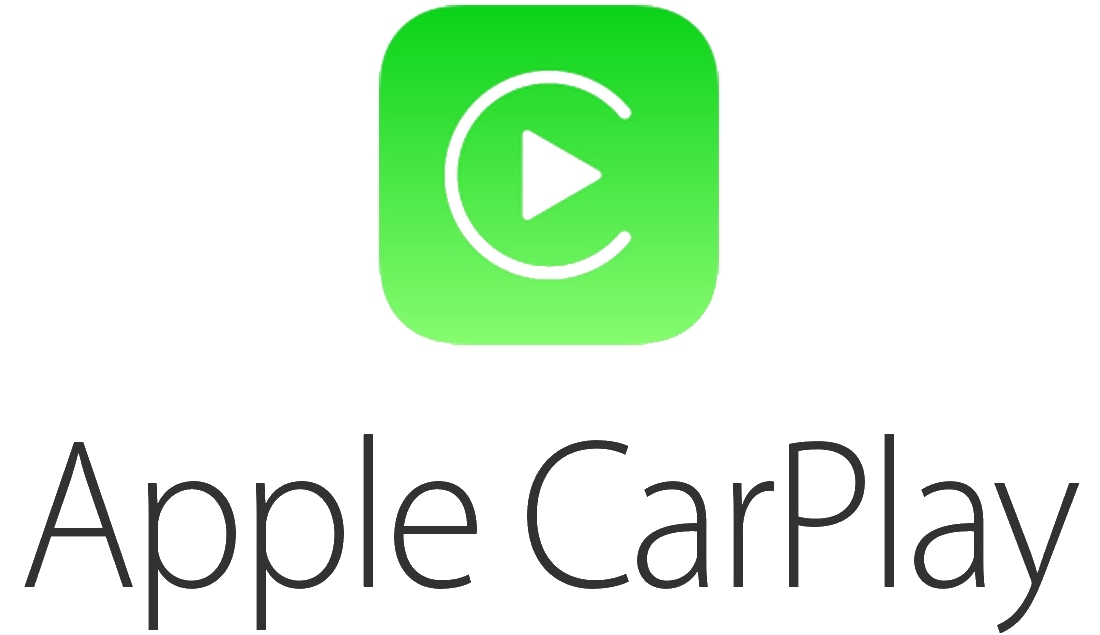 Use Google Maps, Waze or Apple Maps from your mobile device on the SYNC 3 screen.

Get $50 back! Simply send us your old module. (Limited time only. Pre-paid return shipping label and free pick-up included. See below for details*)

Our complete SYNC 3 retrofit kit contains genuine Ford parts, includes everything needed and comes pre-programmed. Please note, some of the pictures depict the kit with navigation - We offer this kit with and without factory navigation. It may also be depicted with on screen climate controls - this kit will retain existing on screen climate controls, but will not add them to a vehicle that did not have them before.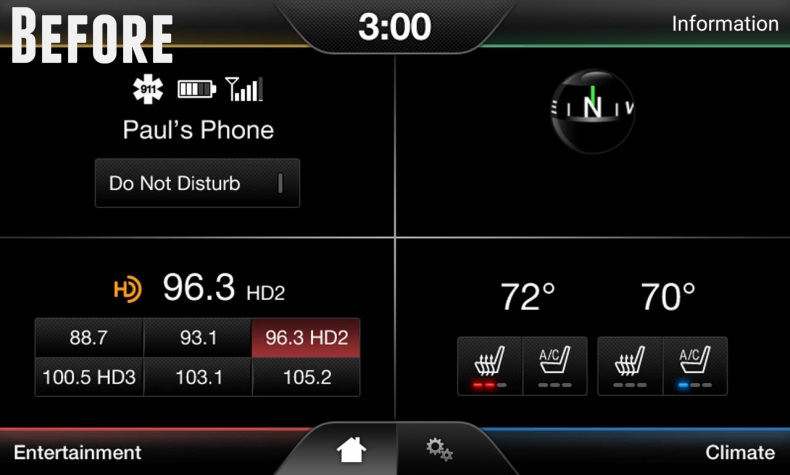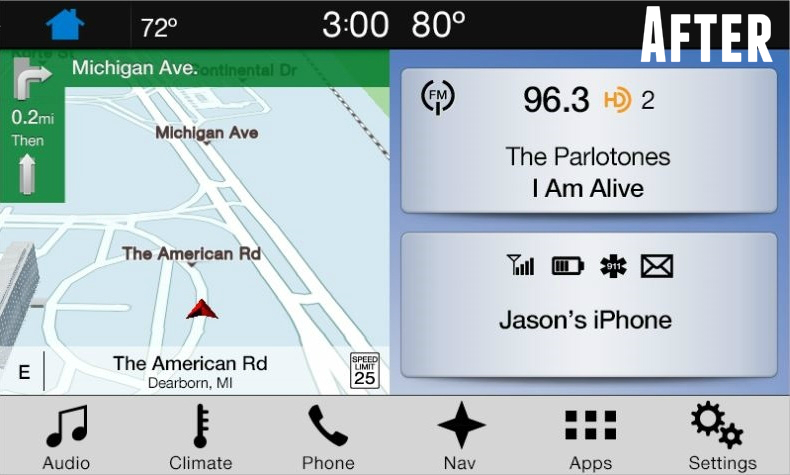 INCLUDED:
Genuine Ford voice activated navigation system control module.
Genuine Ford 8" Capacitive Touchscreen.
Screen to module cable.
Under dash, retrofit GPS antenna (Required - existing antenna NOT compatible).
Replacement Media Hub.
Media Hub Wiring Adapter.
Vehicle specific programming - NO trip to the dealer required! (VIN Required During Checkout)
Full printed instructions & live technical support.
FEATURES:
Adds Apple CarPlay™
Adds Android Auto™
Latest applicable SYNC 3 software
Plug n' play - hassle free installation w/ no cut or spliced wiring
Retains ALL Factory Features - (Backup Camera, Heated Seats, Park Assist, Climate Controls, etc)
Designed for the DIY'er
(Optional) Voice Activated Navigation w/ Full maps for USA, Canada and Mexico**
INSTALLATION:
Install Time: ~25 minutes
Install Ease: 2 out of 5
COMPATIBILITY:
2015 Ford Edge

equipped the 8" MyFord Touch system
FREQUENTLY ASKED QUESTIONS:
Q – "I have manual climate and the bottom right corner of my screen just has the date. Will this add the on screen controls?"

A – No. There is not a cost effective way to add automatic climate control.
---
Q – "Will this add SYNC Connect / FordPass controls from my phone?"

A – No. SYNC Connect is a separate modem optioned in some vehicles. We do not currently offer a kit to add this functionality.
---
Q – "Will this kit void my factory warranty?"

A – No. This kit will not void your vehicle warranty. Although Ford will not warranty the components in our kit, we do for one full year!
---
Q – "Can I still update the SYNC software when updates are available?"

A – Yes. You will still be able to update SYNC via USB thumb drive from our software updates page HERE.
---
Q – "Will this kit affect my SiriusXM subscription?"

A – No. SiriusXM subscriptions are NOT affected by our kit - your SiriusXM ID will remain the same.
---
* Buy Back Program available for US Customers Only. Modules must be in good working condition without physical damage to be eligible.
**Regardless if your SYNC 2 system is navigation equipped or not, you will need to select "Navigation Version" option under "Kit Options" if you would like SYNC 3 to have navigation.
wonderful, easy to install

Seem Expensive? Yes. Worth it? YES!

The Ford My Touch system our 2015 Edge came with was just "Okay" even with navigation. Ford stopped updating it not long after it was released, knowing Sync 3 was in the works. The new system is faster, easier to navigate, easier to read, and has more features. We purchased the factory navigation but haven't used it yet. Road trip coming up next week though, so we'll see. The only complaint I have is it seems the voice commands are much more "picky" in Sync 3 than in My Touch. It seems to have trouble understanding commands such as requesting Sirius radio stations by name. Hopefully we'll figure it out over time.

Not Happy with your MY FORD TOUCH... This is the answer!!

I have a 2015 Ford Edge Sport, which was coming off lease. I loved the vehicle, but hated the Sync system. That alone was made me consider turning in the vehicle. I ended up purchasing it. When I found that I could upgrade to Sync 3, I wasted no-time researching the best online supplier. 4Dtech had everything I needed to DIY. The Youtube videos were an excellent source to ease my mind to perform the installation. It took me about an hour and half and went as expected. The system booted right up and works flawlessly. I am very pleased with the results and very glad I upgraded. Well worth the investment.

Replace your My Ford Touch and be happy

My Ford touch was the worst, so bad I almost traded my new Edge in after only a few months of using it. I found 4D tech and they had the solution that Ford did not. If you are a little handy this install is easy. Some steps seem to be missing on some of the videos i watched on you tube but i figured it out. As far as the upgrade it is fantastic. The car did not have navigation and the software on ford touch was very confusing. Now the car has SYNC 3 with navigation and all the controls the old system had in the new format that is easy to use while driving. The touch screen is very responsive and you can use voice activation to enter an address into navigation. My wife said no to the cost of the system but I knew it was going to be great and now she is so happy with it. She refused to use the old one and now it is so easy. Thanks

If you want to up grade your car to 2017 with out getting a new one this is your product and 4dtech is your company. It was easy to install and works great, this is the third time I have put a 4d product in cars that I have , plus in my kids cars , once installed it is as good as OEM. I would and well recommend this product (SYNC3) and the rest of there line to everybody I knew
One year from date of purchase. See our policy page for more details.