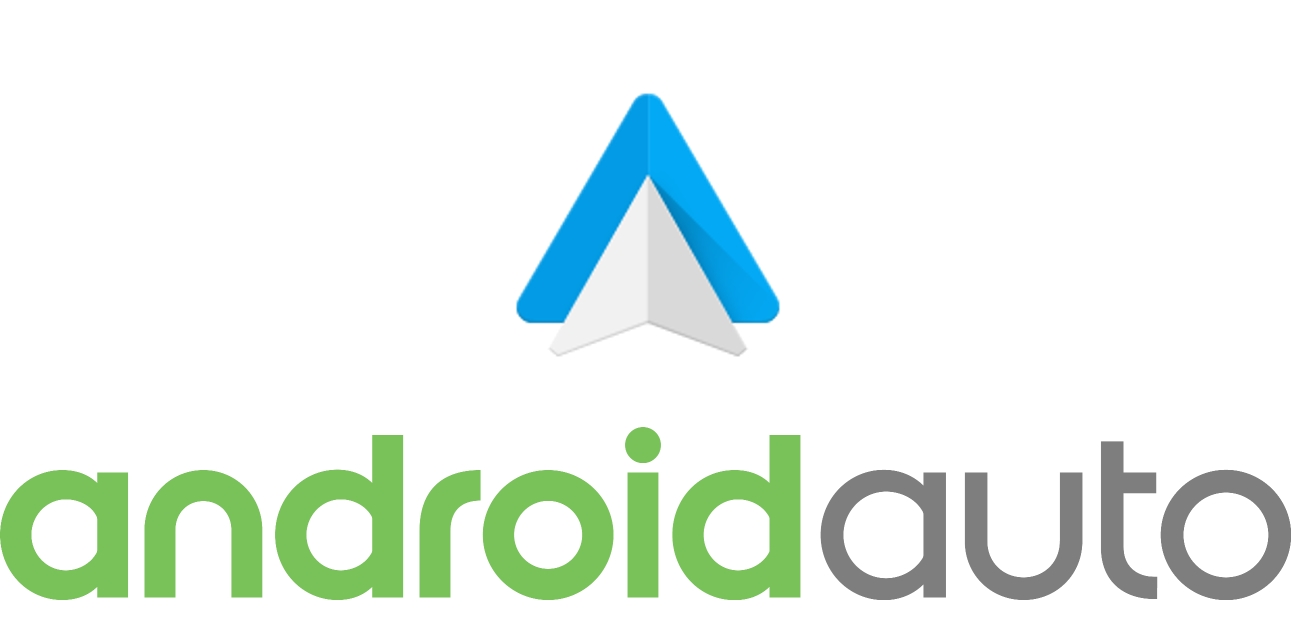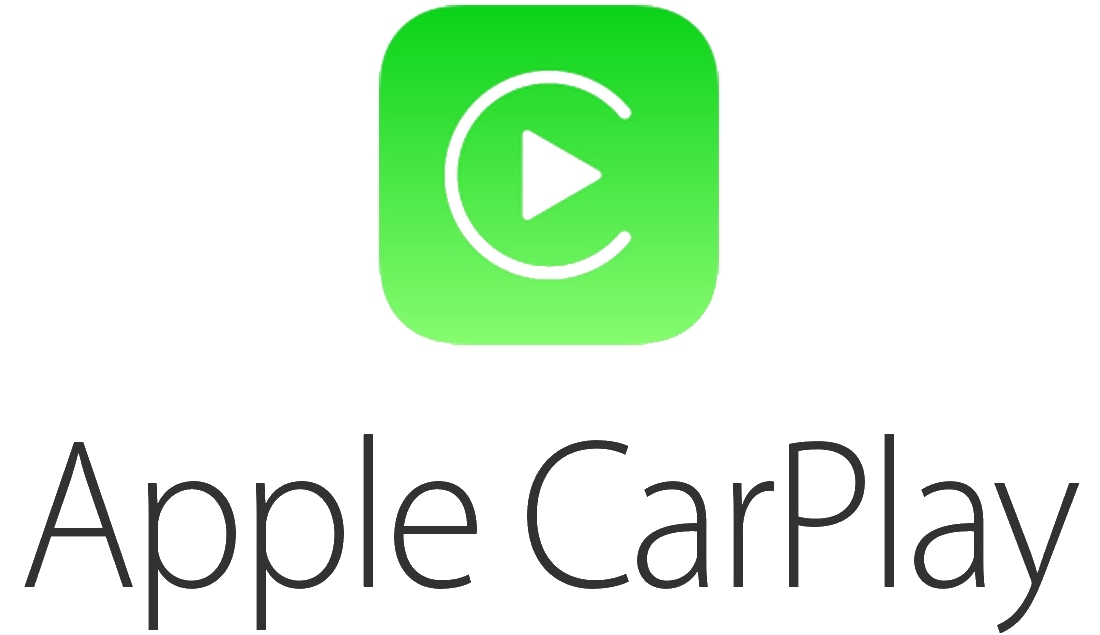 Use Google Maps, Waze or Apple Maps from your mobile device on the SYNC 3 screen.

Get $50 back! Simply send us your old module. (Limited time only. Pre-paid return shipping label and free pick-up included. See below for details*)
Our complete SYNC 3 retrofit kit contains genuine Ford parts, includes everything needed and comes pre-programmed. Please note, some of the pictures depict the kit with navigation - We offer this kit with and without factory navigation. It may also be depicted with on screen climate controls - this kit will retain existing on screen climate controls, but will not add them to a vehicle that did not have them before.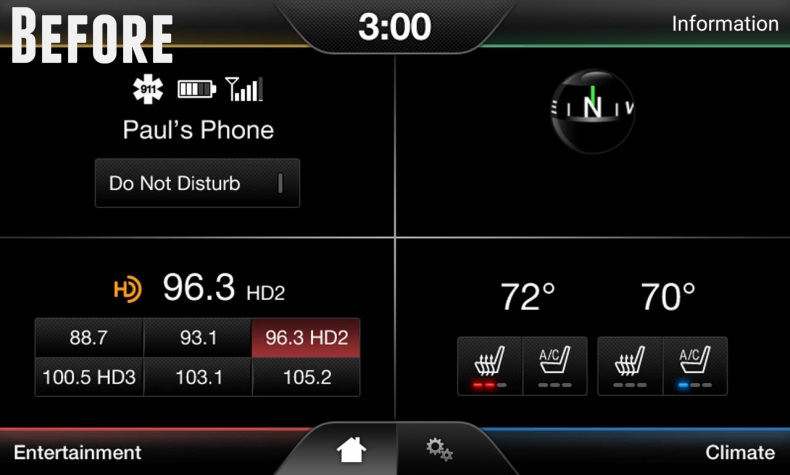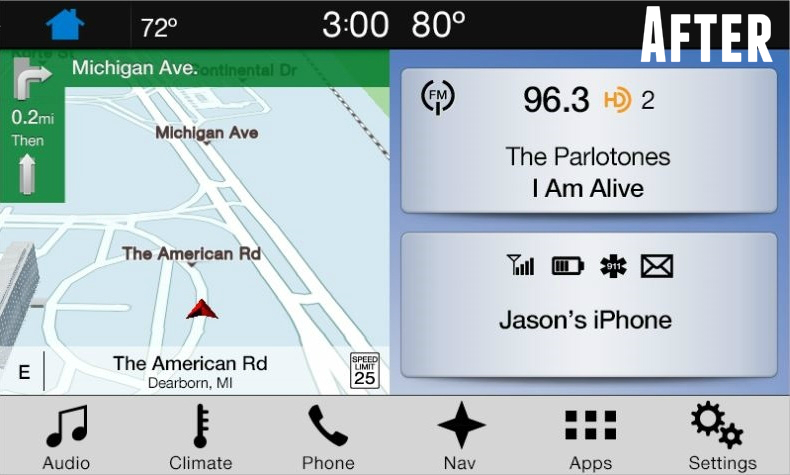 INCLUDED:
Genuine Ford voice activated navigation system control module.
Genuine Ford 8" Capacitive Touchscreen.
Screen to module cable.
Under dash, retrofit GPS antenna (Required - existing antenna NOT compatible).
Replacement Media Hub.
Media Hub Wiring Adapter.
Vehicle specific programming - NO trip to the dealer required! (VIN Required During Checkout)
Full printed instructions & live technical support.
FEATURES:
Adds Apple CarPlay™
Adds Android Auto™
Latest applicable SYNC 3 software
Plug n' play - hassle free installation w/ no cut or spliced wiring
Retains ALL Factory Features with the exception of Active Park Assist (if equipped)
Designed for the DIY'er
(Optional) Voice Activated Navigation w/ Full maps for USA, Canada and Mexico**
INSTALLATION:
Install Time: ~25 minutes
Install Ease: 2 out of 5
COMPATIBILITY:
2013, 2014 & 2015 Ford Fusion, Fusion Hybrid & Fusion Energi

equipped the 8" MyFord Touch system
FREQUENTLY ASKED QUESTIONS:
Q – "I have manual climate and the bottom right corner of my screen just has the date. Will this add the on screen controls?"

A – No. There is not a cost effective way to add automatic climate control.
---
Q – "Will this add SYNC Connect / FordPass controls from my phone?"

A – No. SYNC Connect is a separate modem optioned in some vehicles. We do not currently offer a kit to add this functionality.
---
Q – "Will this kit void my factory warranty?"

A – No. This kit will not void your vehicle warranty. Although Ford will not warranty the components in our kit, we do for one full year!
---
Q – "Can I still update the SYNC software when updates are available?"

A – Yes. You will still be able to update SYNC via USB thumb drive from our software updates page HERE.
---
Q – "Will this kit affect my SiriusXM subscription?"

A – No. SiriusXM subscriptions are NOT affected by our kit - your SiriusXM ID will remain the same.
---
* Buy Back Program available for US Customers Only. Modules must be in good working condition without physical damage to be eligible.
**Regardless if your SYNC 2 system is navigation equipped or not, you will need to select "Navigation Version" option under "Kit Options" if you would like SYNC 3 to have navigation.
I really wanted Apple CarPlay in my 14 Fusion. The level of service 4D Tech provided was exceptional. And between the kit, instructions, and YouTube videos, the installation was super easy. I watched the video a few times and felt like a pro doing it. Everything in the car works flawlessly. Except the Park Assist. I knew that when I ordered it and is the only thing that could not be included without extensive rework of the perimeter sensors. That's fine. I rarely used it and I will keep the original unit in case I ever sell and the new owner just has to have that feature.

Had to sell my wife on it, but....

My wife has a 2014 Ford Fusion Titanium with the Sync 2. I stumbled across this business and had to convince her the product was cheaper than a new car. My truck has Sync 3 so she's familiar with the new Sync. A couple of notes for future buyers. 1) I'm a very mechanically inclined kind of guy, yet I went to watch the install video to criticize it. However, I was shocked at how detailed the video was. They were so detailed to the point to where you feel like you could rebuild a motor by yourself. 2) the packaging was awesome when we received the product. They even included alcohol swabs that were mentioned in the install video. 3) the install is really simple. Don't be scared to pull on the trim. 4) only issue we had was apple carplay. It would not recognize mine or my wife's iPhone X. I called support and Steve answered (I think right before closing hours) and advised me to take a picture and send it to the support team so they can troubleshoot it for me. Before I did that, I went to settings and did a master reset on the unit and boom, it all worked. The unit still had the most recent version loaded, to which Steve informed me that all the units get updated software before shipped. I hope this helps others. 4DTech, I'm a "techy guy"; good job with this product.

Fusion 13 now feels like a 17

I installed this into my 2013 Fusion following the video instructions from the site. The packet they sent is okay, but doesn't help much with the removal of the dashboard and speedo. I found that bit to be the most difficult mainly because it's awkward with the steering wheel, but again, the video does a fine job of detailing the process. Use those two together and you should have no problem at all (aside from possibly insanely tight bolts, like mine were).

As for the unit, it has been working perfectly since installation. Compared to the 13 unit (which was perfectly fine, but I'm a tech nerd and I like wasting money) it's night and day. The backup camera loads much quicker (and the image quality looks different, which was surprising) and the Bluetooth is a HUGE upgrade. People I've talked to say I sound far louder, clearer and crisper. The main Sync 3 interface is not my favorite, but switching to dark mode definitely makes it look better (and it matches the instrument colors).
Android Auto is pretty great - ive never had built in GPS and had to balance my phone like a goober in the past, so having Google Maps on the 8" screen is alone worth it for me.

My wife thinks I'm an idiot for buying this haha, but hey....beats buying a new car!

Literally plug and play. Instructional video accurate to a T. Bang for you buck is well worth the purchase.

Got the kit for my 2015 Ford Fusion Titanium. They sent me the wrong instructions (sent for a Fiesta) which was promptly rectified via email. Due to the missing instructions, I googled and found a step-by-step YouTube video that was an amazing help. I took a lot of time to detail (clean) all of the pieces. With the help of the video, I installed the GPS antenna underneath the dash where the original GPS by pulling out the instrument cluster so everything looks factory installed. That being said, do yourself a favor and find that video under 4DTech's channel on YouTube. It took me around an hour (not including a trip to the auto parts store), but I was in no hurry. Another tip is that the dash tool kit is a must! I did not realize this and had to order. The hardest part of the whole procedure was getting the control panel bezel off: you really have to "pop" it, but it finally gave. I had a major panic attack after the entire job was done. When I reset the unit, my battery apparently died in the middle of it; talk about a coincidence! I was really afraid that I messed something up! Since the car is three years old, I decided to pull the battery and run it down to Advance Auto Parts. They tested the battery and the test was inconclusive. I decided to go ahead and purchase a new battery anyways. I got home and installed it, and hit the start button. ALL WAS PERFECT!!!! As stated in the instructions, the time and GPS were off, so drove it less than .25 miles and all locked right in. Very happy that I went ahead with this purchase!

Saved Up for Months. Very Much Worth the Wait & Expense!

OK, for an overweight 70+ old geezer, an installation of a little over 2 1/5 hours isn't bad. Not without dropping one of the trim screws and spending the better part of an hour looking for it! Never did find it. I robbed one on the light switch housing and will look for a replacement. Just a suggestion, maybe having a $10. screw pack accessory would help? I'm pretty sure Ford sells them in 100 qty. packages, beyond reality for me. Bottom Line - Sync 3 and CarPlay for my iPhone are SO MUCH more easily readable and screens more organized. Being a 38+yr IT tech and eventually an IT manager before I retired, I fully appreciate the package and software development that went into your products. Powered on and it all matched my configuration. As a suggestion to prospective buyers, get the 7mm nut driver handle, my HF unit was a bit too long, making square fit a bit tough. If I had thought ahead, I would put a little super magnet inside the nut driver. Thank You for a great product!

Supper Simple Modification

Best way to get OEM apple play on your pre 2016 car. Thanks for the great product. The simplest turn key up grade you can find on the net.... This is my second system form them, first one over a year, no issues even after car has been to dealer.... THANK YOU>..

A nice refresh for your 2013 Ford Fusion

I wanted to live with it a while before writing my review, I've had it since late January 2018. I've had it for a few months, and have been happy with it overall. Installation was fairly simple, I also purchased their trim removal kit. The key is to follow the instructions carefully. I used the Youtube video 4Dtech made for the fusion, pausing and rewinding when necessary. It took me about an hour to get it all installed and the trim back in place. The sync 3 is just a nicer experience even without Android Auto, the home screen has much more useful info than My Ford Touch. A side benefit is it finally fixed the bug where my car wouldn't remember which ambient lighting color I set. Since the upgrade it has stayed set to the color I wanted. It's pricey, but it's the only real option those of us with the 8"MFT had if we wanted to keep the bulk of our functionality. I only took off 1 star because I lost parallel park assist (which 4d made aware before I purchased), but it still stinks to lose something that I bought with the car. Android Auto is great, the downside is it can be finicky with longer USB cords, as I was having problems with it losing connection, until I bought a 6" USB cable for my 1st Gen Google Pixel XL . Whether these issues are something you're willing to deal with at this price, it was worth it for me and my daily L.A., 405 FWY commute. Waze running on the 8" touchscreen in my car, is way worth it. If you're thinking about this upgrade, I highly recommend you do it. If you don't have park assist there's absolutely no reason not to.

I am so happy with this purchase! I've been wanting the SYNC 3 system for a while now, and was very close to buying a new car in order to get it. When I found this website I have to admit I was nervous about it, but I read all the positive reviews and went ahead with the purchase.

The install was a CAKE WALK! If you can work a screwdriver, you can install this stereo. It took me less than an hour, mostly thanks to the fantastic installation video on the website.

Right after the install, my outside temperature was reading the wrong temp (32 degrees instead of 80), and my AC was blowing warm. I called tech support and they were AWESOME. He suggested that I drive the car for a bit to see if the temp corrected itself, and I have to admit I rolled my eyes thinking he was nuts. But I did as he suggested... got less than a mile down the road and the temp changed to the correct temp and immediately the AC started blowing cold again. I've had NO issues at all since then, and it's been in the car for a few weeks now.

I highly recommend this system to anyone wanting to upgrade their car to the latest software. Thank you to everyone at 4D Tech, you've saved me a $30K+ purchase and made me a very happy guy!
One year from date of purchase. See our policy page for more details.