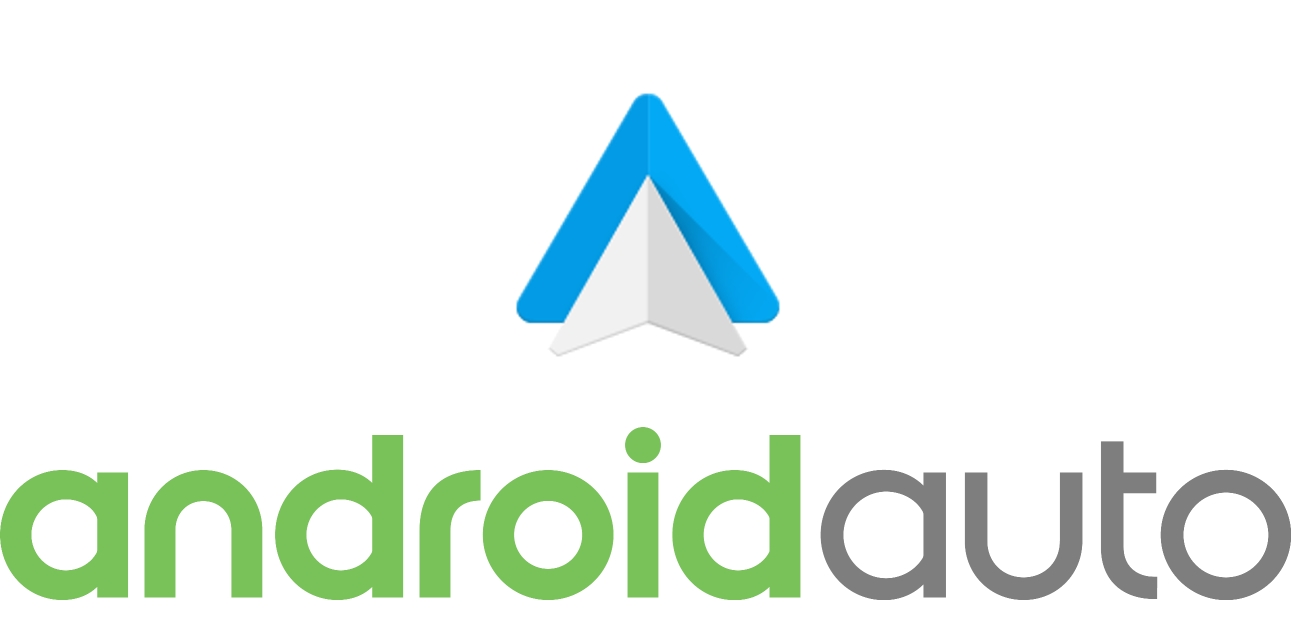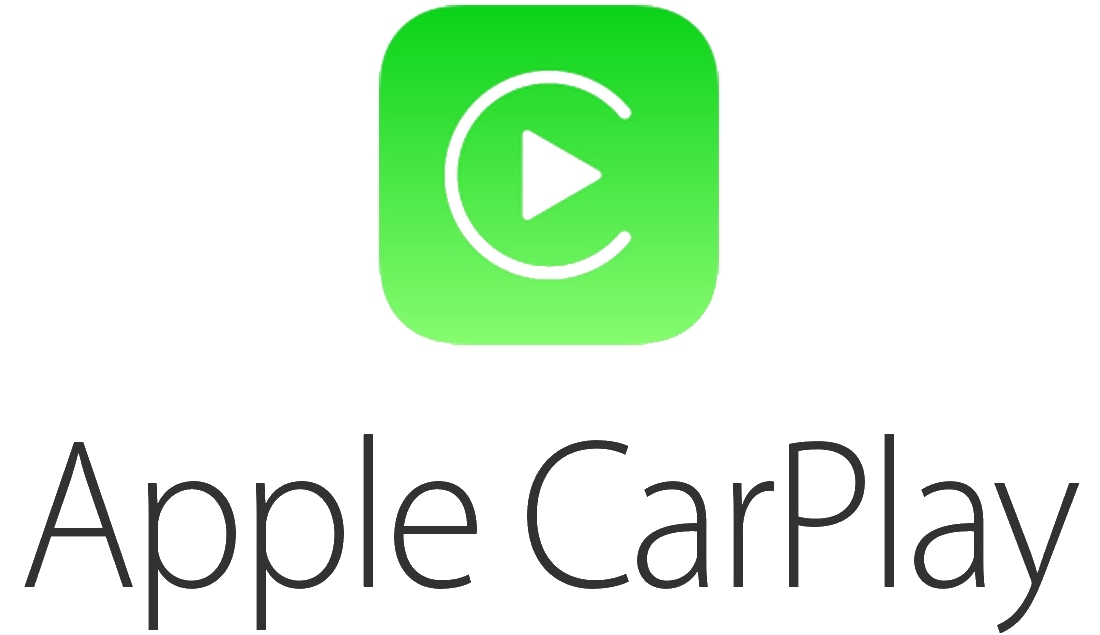 Use Google Maps, Waze or Apple Maps from your mobile device on the SYNC 3 screen.

Get $50 back! Simply send us your old module. (Limited time only. Pre-paid return shipping label and free pick-up included. See below for details*)
Our complete SYNC 3 retrofit kit contains genuine Ford parts, includes everything needed and comes pre-programmed. Please note, some of the pictures depict the kit with navigation - We offer this kit with and without factory navigation. It may also be depicted with on screen climate controls - this kit will retain existing on screen climate controls, but will not add them to a vehicle that did not have them before.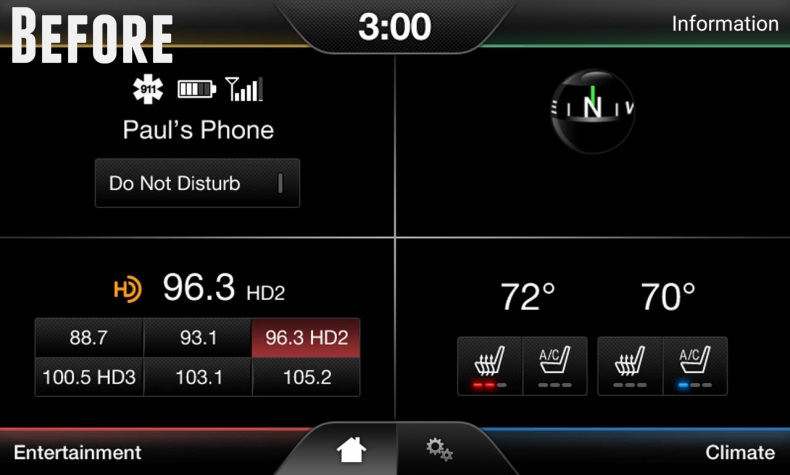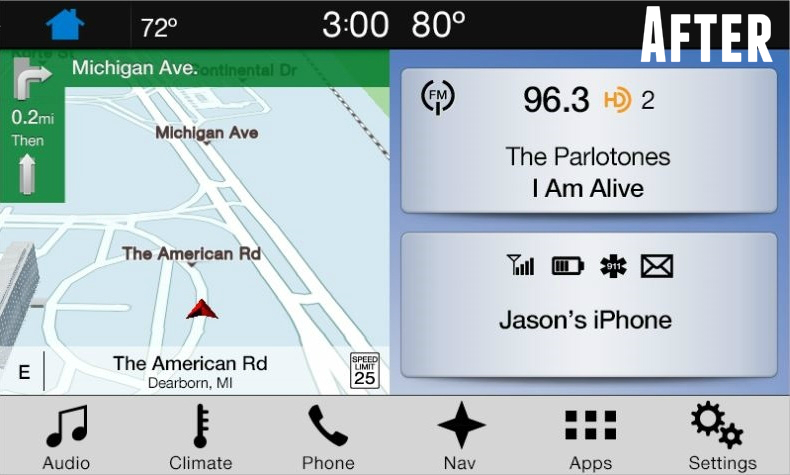 INCLUDED:
Genuine Ford voice activated navigation system control module.
Genuine Ford 8" Capacitive Touchscreen.
Screen to module cable.
Under dash, retrofit GPS antenna (Required - existing antenna NOT compatible).
Replacement Media Hub.
Media Hub Wiring Adapter.
Vehicle specific programming - NO trip to the dealer required! (VIN Required During Checkout)
Full printed instructions & live technical support.
FEATURES:
Adds Apple CarPlay™
Adds Android Auto™
Latest applicable SYNC 3 software
Plug n' play - hassle free installation w/ no cut or spliced wiring
Retains ALL Factory Features - (Backup Camera, Heated Seats, Park Assist, Climate Controls, etc). Raptor Vehicles see notes below***
Designed for the DIY'er
(Optional) Voice Activated Navigation w/ Full maps for USA, Canada and Mexico**
INSTALLATION:
Install Time: ~25 minutes
Install Ease: 2 out of 5
COMPATIBILITY:
2013 & 2014 F-150 Pickup Trucks

equipped with the 8" MyFord Touch system (with and without center console)
FREQUENTLY ASKED QUESTIONS:
Q – "My Hub is in my center console unlike the one in the video, will this kit still work?"

A – Yes, The hub install and connections are the same, just in a different location.
---
Q – "I have manual climate and the bottom right corner of my screen just has the date. Will this add the on screen controls?"

A – No. There is not a cost effective way to add automatic climate control.
---
Q – "Will this add SYNC Connect / FordPass controls from my phone?"

A – No. SYNC Connect is a separate modem optioned in some vehicles. We do not currently offer a kit to add this functionality.
---
Q – "Will this kit void my factory warranty?"

A – No. This kit will not void your vehicle warranty. Although Ford will not warranty the components in our kit, we do for one full year!
---
Q – "Can I still update the SYNC software when updates are available?"

A – Yes. You will still be able to update SYNC via USB thumb drive from our software updates page HERE.
---
Q – "Will this kit affect my SiriusXM subscription?"

A – No. SiriusXM subscriptions are NOT affected by our kit - your SiriusXM ID will remain the same.
---
* Continental USA only. Must have a 2013+ production date, no physical damage and in working condition. See Policies for more info.
**Regardless if your SYNC 2 system is navigation equipped or not, you will need to select "Navigation Version" option under "Kit Options" if you would like SYNC 3 to have navigation.
*** F-150 Raptors: Front camera is NOT compatible with SYNC 3 (if equipped). "Raptor SVT" power on splash screen is replaced with the new "Raptor Performance" splash screen.
This is by far the best item for a truly hands-free experience. I HATED using a dash mount clip for my phone which never worked long term. This is now bigger, better, and easier to look at while driving than my phone. With Carplay it is literally a hands free experience.

I watched the youtube video on this and it worked well.

One thing to note is that the USB location and amount of screws are different depending on your truck. My 14 has the USB in the center console and in a few places, there were more screws than on the sample F150. But, if you have half a brain, you'll find it no problem.

I LOVE THIS. Expensive, yes. Worth it? YES YES YES!

Very high quality with all new oem parts instead of parting it out here and there with lower quality. It is expensive but you get what you pay for with this I believe and the warranty to back it up is nice also.

Having purchased my 2014 F-150 about two months ago, the MFT system had to go. It was horribly slow and unresponsive. This kit was the solution! It was easy to install with a detailed set of instructions and installation video to support the process. I recommend adding the plastic pry tools for removing the interior panels. As for the system itself, it works just like my father's 2019 F-150! It is FANTASTIC! I love it, thanks 4dtech!

INSTALLATION WAS STRAIGHT FORWARD.

I contemplated upgrading from Sync 2 to Sync 3 for about a month once I found 4Dtech. The main issue for me was the price. In the end, I decided to go forward with the upgrade, Nav and all. I'm really pleased with it. Sync 3 is a superior product to Sync 2 from hardware to software. Having CarPlay is awesome.

As far as the unit and 4Dtech goes, everything was as described.

Installation was a challenge only because the 2014 Raptor has some extra trim pieces that must be removed in order to replace the unit. I had to keep working down and through the center console, eventually even moving the console back to access trim screws. So the 20 minute installation estimate was way off. It probably took me every bit of an hour. There are also some differences in screw sizes between the Raptor and the video.

The Sync 3 unit fired up right away. All of my Sync 2 presets, setting and SiriusXM account info was there when it turned on. I didn't expect that!

In the end, 4 out of 5 stars because of price. I'm not sure I'd tell my friends that I spent $2,000 to have CarPlay, and I probably couldn't convince them to spend that kind of money. But it is nice to be free of the underwhelming Sync 2.

Straight forward installation. Large improvement over Sync 2

I purchased the Sync 3 upgrade kit after the screen on my Sync 2 system froze and would not come back to life... even after complete removal and reinsertion into the dash. I agonized over the $2,000 price tag, but in the end I think it was worth it. I had been debating trading in my 2014 truck before the Sync 2 locked up. Not anymore. Now I'm planning on keeping my truck for several more years.

For those considering upgrading from Sync 2 to Sync 3, I offer this review.

1: Installation was straight forward. From first screw to last screw it took me 48 minutes. I had previously tinkered with the dash before, so I was familiar with how to take it out. That being said, when I tinkered with the dash before, I used 4Dtech's video to learn how. I followed the installation video, by putting my laptop in the passenger seat and hitting pause at each step. It made the installation simple and relatively painless. I suggest you watch the video a couple of times before you start. It helps. The longest part of the actual installation was the time I took to decide exactly where to put the GPS antennae. I think that cost me ten minutes.

2: The system literally is plug and play. The hardest part is making sure that you don't drop a screw behind the dash when you are re-assembling the dash. After an initial boot-up, the system came online with zero problems.

3: The system is a VAST improvement over Sync 2. Not only is the system more intuitive and more functional, but it is faster. The computing speed runs circles around Sync 2. Voice to text and voice activated navigation respond better as well. No more repeating myself five times to send one text.

Awesome Product with Easy Installation

Everything was exactly as advertised. The installation was very straightforward. I recommend buying the tools needed, as they are metric (if you don't use metric).

It's very nice having the upgraded sync in my 2013 F150. Will help me keep my truck another 5 years. Totally worth it.

One word. AWESOME!

Easy Install, Big Improvement

The Sync 3 is a HUGE improvement over the old Sync 2. The included instructions are straight forward and make it an easy drop-in replacement for the old head unit in my 2014 F150 Platinum. (Installation is only difficult because Ford made the dash/console assembly sequence very strange.)

5 stars for ease of use. Minus one star for the price of these OEM parts.

I'm super happy with the result.
One year from date of purchase. See our policy page for more details.