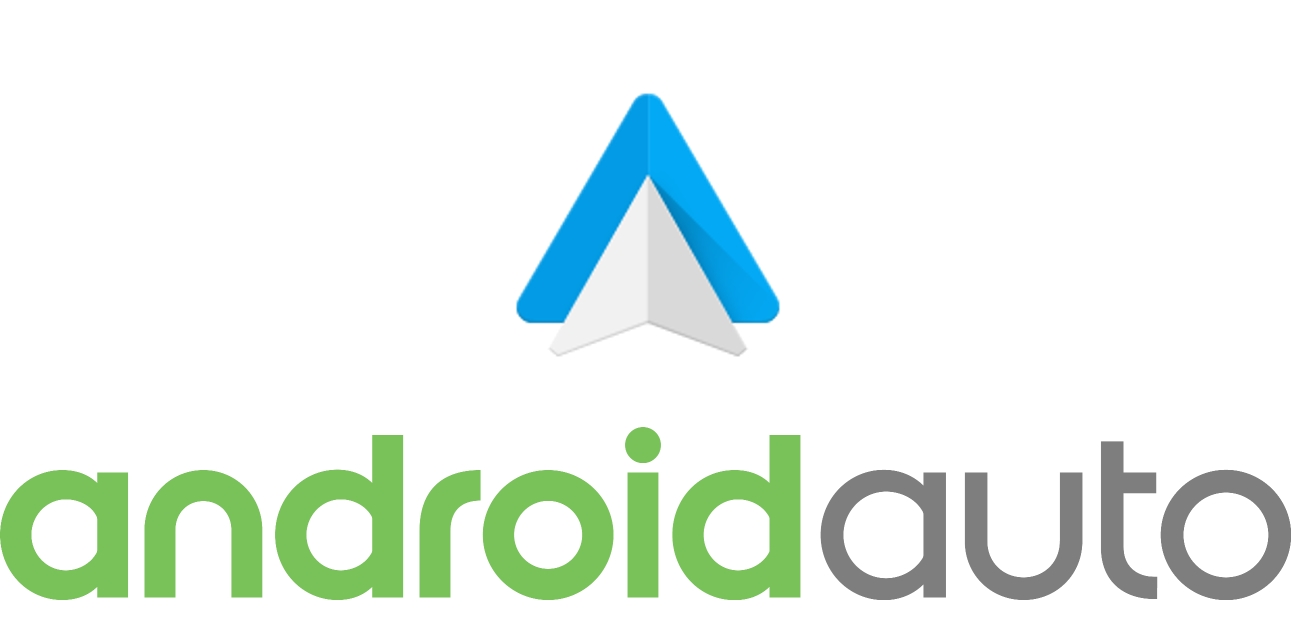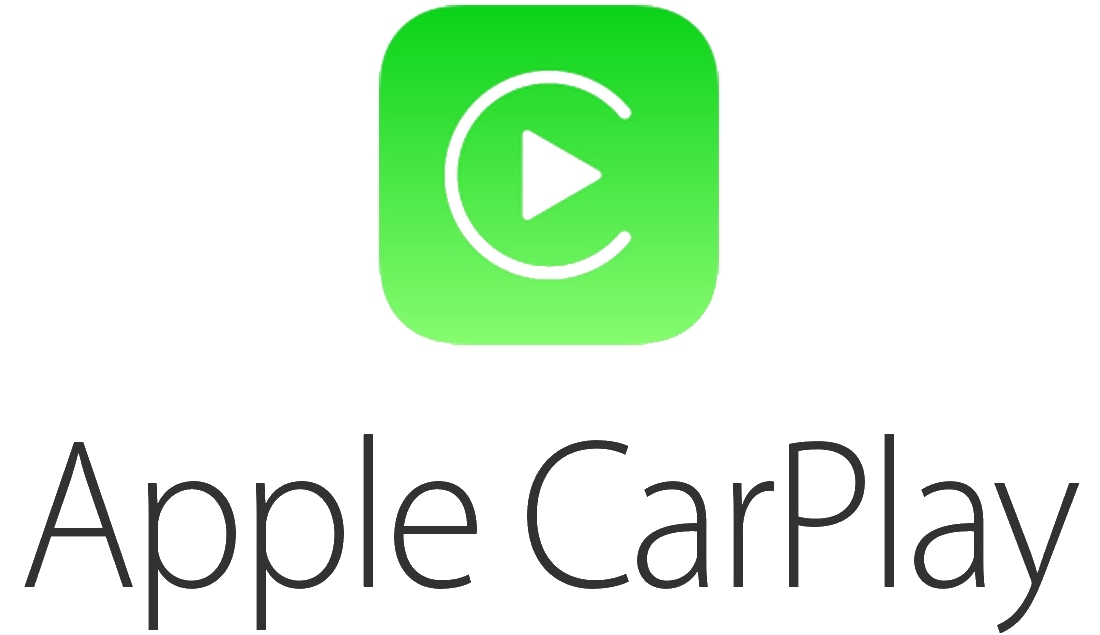 Use Google Maps, Waze or Apple Maps from your mobile device on the SYNC 3 screen.

Get $50 back! Simply send us your old module. (Limited time only. Pre-paid return shipping label and free pick-up included. See below for details*)
Our complete SYNC 3 retrofit kit contains genuine Ford parts, includes everything needed and comes pre-programmed. Please note, some of the pictures depict the kit with navigation - We offer this kit with and without factory navigation. It may also be depicted with on screen climate controls - this kit will retain existing on screen climate controls, but will not add them to a vehicle that did not have them before.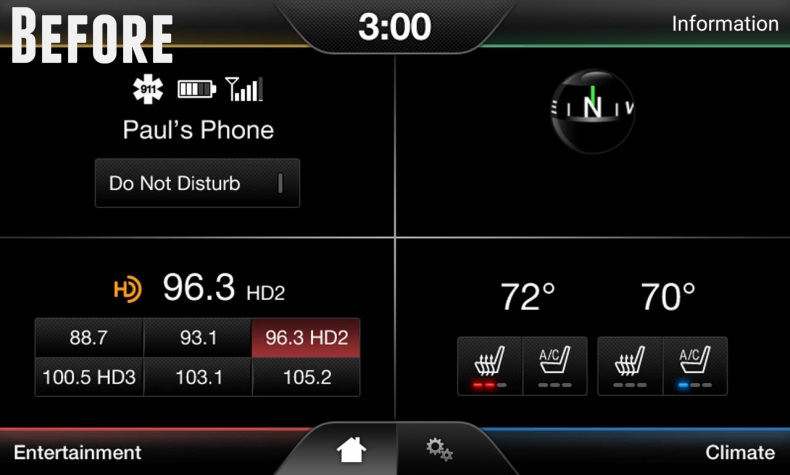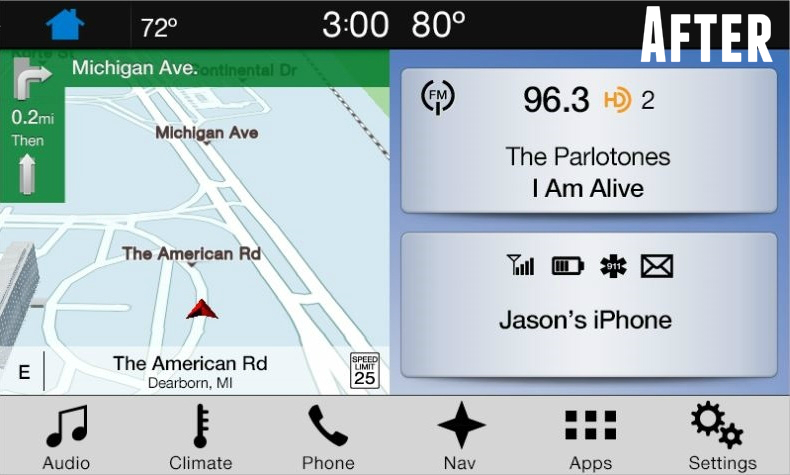 INCLUDED:
Genuine Ford voice activated navigation system control module.
Genuine Ford 8" Capacitive Touchscreen.
Screen to module cable.
Under dash, retrofit GPS antenna (Required - existing antenna NOT compatible).
Replacement Media Hub.
Media Hub Wiring Adapter.
Vehicle specific programming - NO trip to the dealer required! (VIN Required During Checkout)
Full printed instructions & live technical support.
FEATURES:
Adds Apple CarPlay™
Adds Android Auto™
Latest applicable SYNC 3 software
Plug n' play - hassle free installation w/ no cut or spliced wiring
Retains ALL Factory Features - (Backup Camera, Heated Seats, Park Assist, Climate Controls, etc

†

)
Designed for the DIY'er
(Optional) Voice Activated Navigation w/ Full maps for USA, Canada and Mexico**
INSTALLATION:
Install Time: ~20 minutes
Install Ease: 1 out of 5
COMPATIBILITY:
2011, 2012, 2013 & 2014 Ford Edge

equipped the 8" MyFord Touch system
FREQUENTLY ASKED QUESTIONS:
Q – "I have manual climate and the bottom right corner of my screen just has the date. Will this add the on screen controls?"

A – No. There is not a cost effective way to add automatic climate control.
---
Q – "My backup camera does not work, will this fix it?"

A – No. Backup camera failures are common. If the backup camera is not working, it will need to be replaced.
---
Q – "Will this add SYNC Connect / FordPass controls from my phone?"

A – No. SYNC Connect is a separate modem optioned in some vehicles. We do not currently offer a kit to add this functionality.
---
Q – "Will this kit void my factory warranty?"

A – No. This kit will not void your vehicle warranty. Although Ford will not warranty the components in our kit, we do for one full year!
---
Q – "Can I still update the SYNC software when updates are available?"

A – Yes. You will still be able to update SYNC via USB thumb drive from our software updates page HERE.
---
Q – "Will this kit affect my SiriusXM subscription?"

A – No. SiriusXM subscriptions are NOT affected by our kit - your SiriusXM ID will remain the same.
---
* Continental USA only. Must have a 2013+ production date, no physical damage and in working condition. See Policies for more info.
**Regardless if your SYNC 2 system is navigation equipped or not, you will need to select "Navigation Version" option under "Kit Options" if you would like SYNC 3 to have navigation.
† The 2011 and 2012 Edge will not display the source "Bluetooth Audio" in the instrument cluster (All other sources will still display in the cluster). Bluetooth Audio will still show as a source on the main screen. When selected, Bluetooth audio will still Artist, Title and Track information in the cluster. The only loss is the ability to select "Bluetooth Audio" from the cluster. This cravat is only found in SYNC 3 software versions 3.0 and higher. Downgrading to version 2.3 will return this functionality.
Purchased a brand new Ford Edge in 2011 and the My Ford Touch (SYNC 2) that came with the car was horrible. Dealer attempts to repair was a true test of human tolerance and sanity. Everything else about the car was positive. The car still runs great and has been kept as a spare. Looking for years to replace orignal system until I just gave up looking. Recently stumbled upon the YouTube video from 4dtech and knew right away this was the alternative I have been waiting for. Getting over the price tag for a 9 year old car took a few weeks to resolve in my head. Once over that made the purchase. Did not do the replacement myself. Only install info to share is mechanic that installed said it was one of the easiest he ever did and was very impressed with how everything worked the first time around. Car is now a pleasure to drive. Everything that I watched and read about this replacement on the 4dtech website worked for me. I would recommend this product and 4dtech.

Sync touch to Sync 3 replacement

System function correctly, installation took a little longer than advertised due to vehicle's wiring information harness covered metal shelf where gps antenna is to be placed. Other than that the unit looked like it was a refurbished unit. Instead of a brand new unit. Marks and scratches where mounting screws are to be placed. Replacement usb module does not fit flush with interior of storage compartment.

The upgrade was simple to install and works perfectly. Setup was very straight forward and menus are very intuitive. Integrated perfectly into the car.

Excellent replacement for MFT, CarPlay will ensure a much more future proof experience. Very pleased with the ease of install and directions sent.

Having been very unhappy with my sync2 in my 2013 Ford Edge, and being told by Ford that no upgrade was available I found 4Dtech. Their sync3 upgrade was perfect. After watching the install video on their website It took me about 20 mins to install. It works perfectly and makes me a proud Ford owner again.
The upgrade uses genuine Ford parts so it's fully compatible! Thank you!!

NIce Upgrade from stock Sync 2 which died, black screen of death.
The new Sync 3 was an easy install and works so much better than Sync 2!
The Sync 3 works very good with my Iphone 6. It is much faster unit than the 2.
Using Waze and it works most of the time. Every once in a while it will drift off the road you
are driving and show you 250+ feet off from your road. The work around is to go to Google Maps and run it instead and then the GPS seems to get back on track. I then switch back to Waze. This only happens maybe one out of every 40 times. Otherwise it is a MUST BUY Upgrade to your Ford Edge!!

Have been P-O'd with the state of my Sync 2 for years. Inconsistent behavior from the interface, random reboots, and the fact that Ford treats this like the cousin in the family that no one talks about (last update to their crap was years ago now).

I finally have a modern, usable infotainment system and I don't have to buy a new car or a 'somewhat compatible ' aftermarket solution to acheive it.

Love it but if you're not a US citizen, beware the claims from Ford (and Amazon)

I installed this in my 2011 Ford Edge. It was pricy especially with duties and tarrifs crossing the border from the US into Canada, but I knew it was going to be and still love it.

I can't see any way to add this comment on the Ford website for sync nor the play store. But apps I actually want to use that would otherwise be compatible in the US (e.g. "Ford+Alexa") took me forever to find out are not compatible on my phone. When trying to force it with the wishlist addition, it claims the app is not compatible in my country.

This is probably a Ford or Amazon limitation. I've got a major beef with Amazon for hosing Canadians on Alexa skills, but it is listed as ford's app. For this reason, beware Canadians (and I presume other second class countries). This is not a failing of 4D tech. If you don't care about the apps or you're a US citizen, you'd probably have rated this 5 stars, but no where are these limitations declared and it's frustrating to have paid more than a US citizen and be left with less.

I do want to say, kudo's to 4D tech on the really easy to follow videos and so far I'm otherwise quite happy with the setup. I was super worried I was going to break something when doing the trim removal, but I followed the videos live in my car from my tablet/laptop and loved it when up and running. Didn't take too long and I didn't break anything.

Hope this review helps. Sorry I can't have left an extra star. 4D tech, since I can't warn Canadians and Ford doesn't either, could you consider adding some disclaimer/hints/forums/whatever for those of us outside the US to know what we will and won't get? Not your fault, Ford and Amazon are the problems here.

Fantastic product, glad I finally excepted the price and bit the bullet! Installation in my 2013 Edge was a breeze. Installed in 30 min. 1000% better than the MFT system. ⭐️⭐️⭐️⭐️⭐️ to 4D Tech for their customer service and very fast same day shipping
One year from date of purchase. See our policy page for more details.